Hunt The Mouse 2023, is the latest version of Sqkii's famous treasure hunts hosted in Singapore. Promoted as the "Easiest Hunt the Mouse yet", I worked with the Game Design team to develop a campaign that felt easy, and would appeal to all audiences After it's success, we worked on launching the game globally across South East Asia.  
Key Responsibilities
• Designed overall look and feel of the game from the proposed mechanics 
• Brainstormed new 'silver-grid' elimination and 'shrinking golden circle' mechanics
• Participated in determining the placements for logos and branding 
• Documentation. Developed a system that translates Merchant locations, and gets the GPS location using Google Spreadsheets. 
Main Game Screens

Designed several new screens for the 2023 iteration of Hunt the Mouse, while repurposing older screens.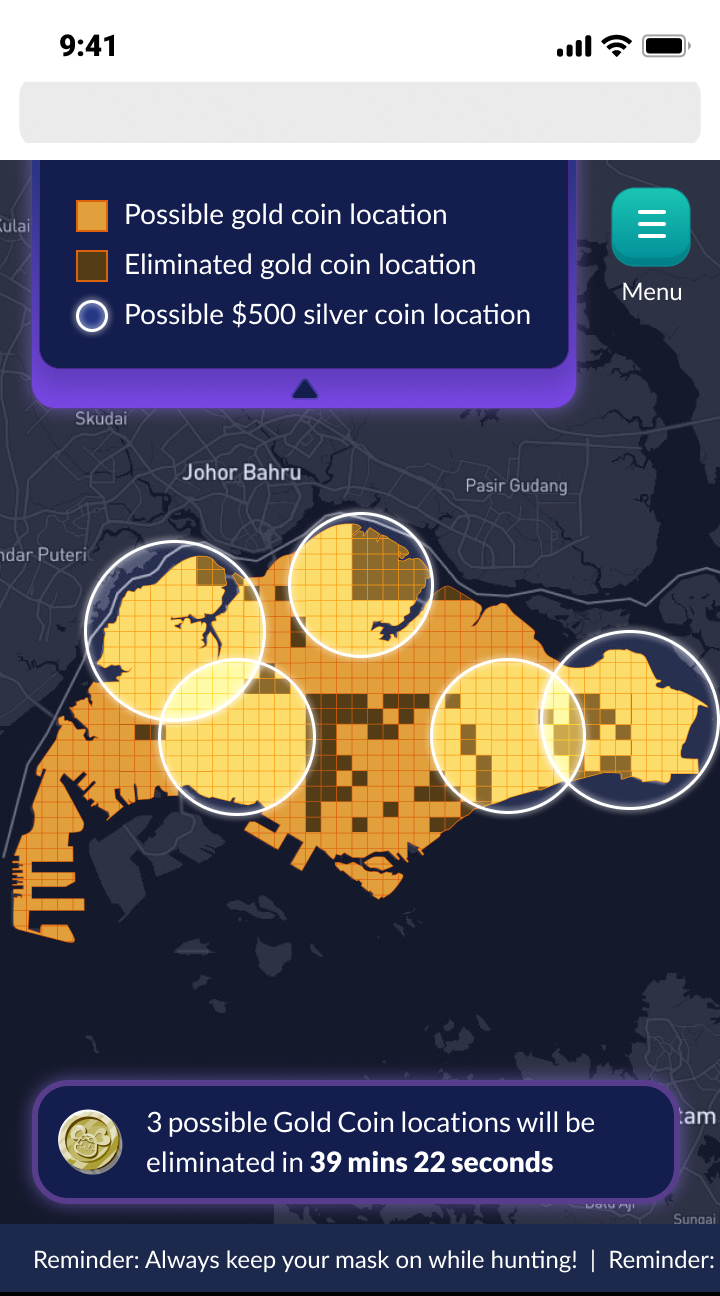 Brainstorming Mechanics for the Game
Worked with the Game Design Team to develop new mechanics to make the 2023 iteration of Hunt the Mouse more user friendly and easy to play, as well as appealing to the general public, since previous iterations of the Hunt the Mouse were geared more towards hardcore fans of previous Sqkii games. Several mechanics and design considerations include:  
• Controlling damage from client's staff as bad actors (scratch cards)
• Designing several mechanics and measures to prevent overcrowding based on the tragedy at Itaewon.
• Damage to Silver Coins 
• Damage to Gold Coins 
• Improving purchases for suffering Brand Actions
• Limiting the amount of silver shrinks 

Branding & Logo Placement
Worked with the Game Design Team to design and plan several locations in game where our title sponsor should be placed. I drew several mock-ups which had a big influence on the final design.